ORGANIZERS MESSAGE
Organisers of the annual Tech Job Fair (TJF) are geared up to give employers and jobseekers yet another thrilling and exciting opportunity to recruit and be recruited into the job market, after a media launch of the fair in Accra. The 2023 edition of the TJF scheduled to come off on Wednesday, February 22, 2023, at the Accra International Conference Centre (AICC) will be held under the theme 'Leveraging technology to create inclusive and sustainable jobs'.
Before the main event, there shall be separate stakeholder engagements for both employers and jobseekers. The one-day job fair is to bring together companies looking for new talents, on one hand, and job-seeking graduates on the other to exhibit and fill up job openings through an Innovative rapid recruitment process.
AFOS Foundation, represented by Hanna Schlingmann, Project Manager of AFOS/DigiCAP.gh, noted: 'We are very optimistic that the young professionals who have participated in the digiCAP training have amazing career opportunities ahead of them. With the DigiCAP Junior Consultant Program, the AFOS Foundation encourages young talents to develop an entrepreneurial spirit, so they can become not only well-paid employees, but even well-paying employers."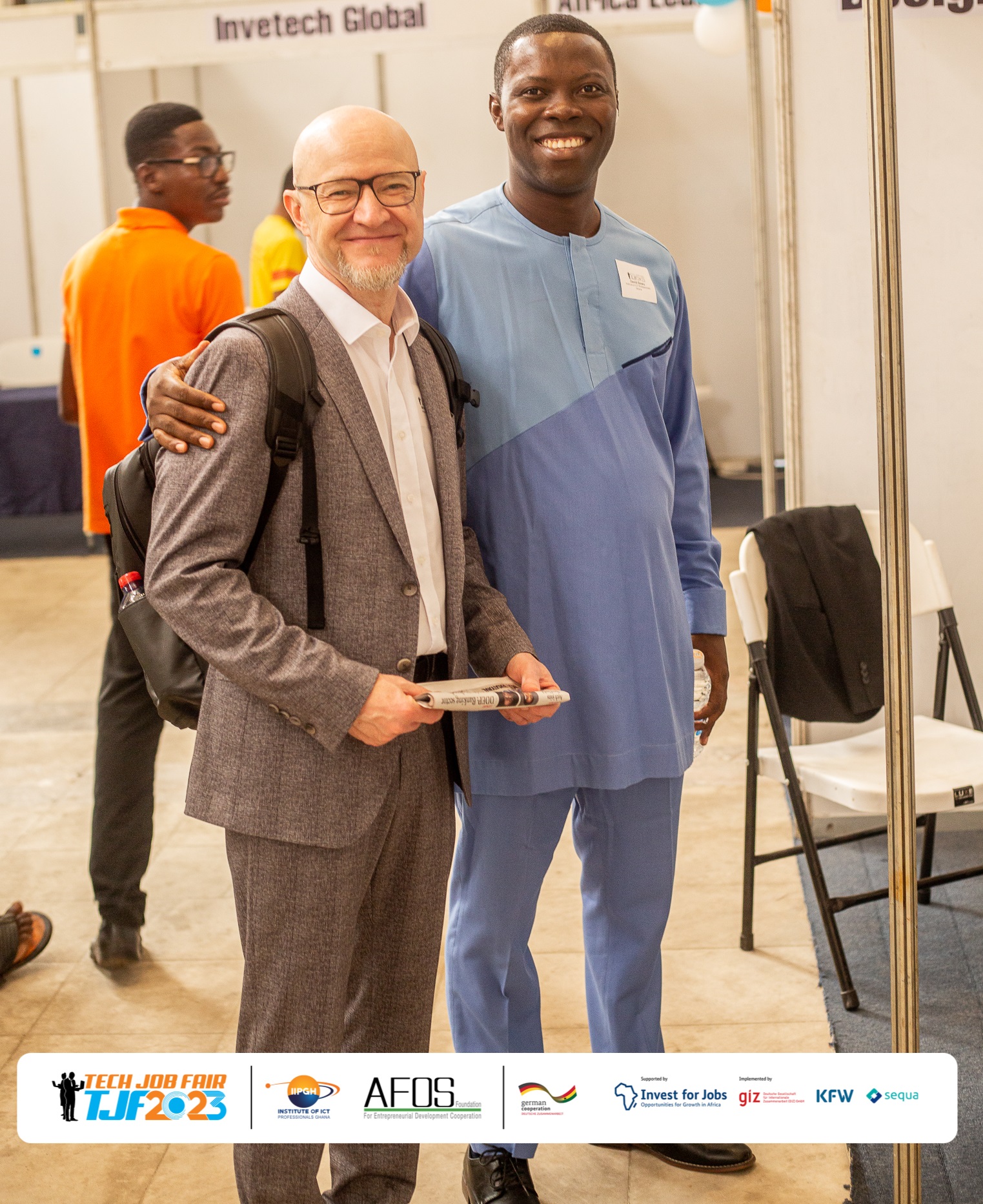 Number of Participants
2000+
Number of Registerd
Participants
3900+
THE EVENT
This year's Tech Job Fair (#TJF2023) is expected to host over 2000 potential jobseekers with 50 institutions representing the industry. The event will be held in four sessions, including an exhibition of booths at the foyer, which starts at 9 am through to the end of the program at 5 pm: presentation sessions, breakout sessions: and plenary discussion sessions. The final part of the event will be a networking session with refreshments, supported by the German Development Cooperation under the Invest for Jobs Programme, where participants get to strike connections wi h businesses and individuals. The event will be streamed I've on social media and on the institute's online portals.
Pre-event activities have been lined up to prepare jobseekers for opportunities before he fair. These activities include virtual sessions by tech experts, Industry-Academia Tech Dialogue, media interviews, and other engagements.